Date: Sat, 24 Apr 1999 03:25:18 -0400

From: Les Logan <les.logan@charter.net>

I passed through Florence, SC on April 13, 1999 to visit VAQ-33's Connie as I do periodically. It was not a pretty sight! A couple of photos are hereby attached.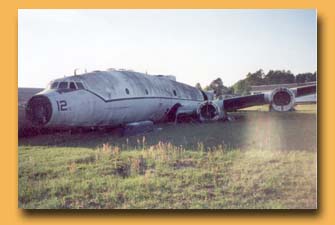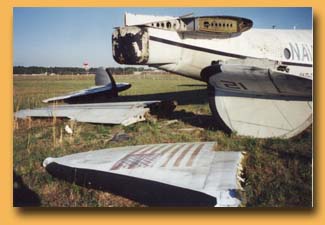 I was there (Lockheed Ontario) the entire year of 1972 while this bird was being converted into an NC-121K. The Lockheed people didn't understand our requirements for the antenna systems very well. That was my specialty as a NAESU tech rep.
The plane was late in delivery because I showed that it took more than planting an antenna wherever it would fit (there were more than 150 of them) and running a piece of coax to a black box mounted wherever weight and balance dictated that it be located. I showed that high loss coaxial cable had to be ripped out and replaced with lower loss cable in order to meet specs. I showed that low-noise pre-amplifiers needed to be physically re-located nearer the antennas than the receivers to be effective. I showed that the UHF section of the AT-1108 antenna needed to be run to the UHF radio and the VHF section needed to be run to the VHF radio, not vice versa (they have different connectors). I showed that the A- and B-band transmitters (ALT-32 and ALT-27) needed to be momentarily (and automatically) shut off as the aircraft changed heading while jamming through different quadrants of the Quad Helix antenna in order to keep from burning up the high power coax switches. Etc. Etc. Etc.
I went on all the test flights as an in-flight troubleshooter and OJT instructor for the crew until the aircraft was delivered to VAQ-33 in December 1972. I became intimately familiar with all the mission electronics (I-level maintenance was done in the squadron), especially their unique and complex antenna systems, and provided maintenance assistance and OJT until my transfer to COMFEWSG (the operational commander of VAQ-33) in 1979.
I was there in Key West on June 25, 1982 (by invitation of Lockheed) when this aircraft took off on its final flight, to Florence, South Carolina. I have photos of it at barely 100 feet altitude with the gear up as Rear Admiral Al Galotta piloted it straight toward the hanger, pulling up at the last moment as we were buzzed with a deafening roar while the squadron personnel stood at attention inside.
This aircraft was uniquely configured with surveillance and jamming equipment, much of which was one-of-a-kind (and UNBELIEVABLY expensive!), to do a job that no other aircraft has been able to do as well before or since. The equipment wasn't unsupportable, regardless of what ANYONE says. The only reason for its retirement after such a short life as an NC-121K was political (the Connie was the only non-jet aircraft in a squadron that consisted of A3's, A4's and A6's). There was no support for it by those considering their careers first, jealous that it took away funds and assets preferred for the jets, and claiming that it just wasn't affordable to buy 115 octane av gas any more. What a crock!
So 141292, the LAST 121-series aircraft in service in an active duty squadron, was sent to the Florence Air Museum. I don't think they really wanted it. I heard it was arranged (urged?) by one of the flight engineers who was about to retire and whose home town was Florence. For personal recognition? Who knows? All I know is that it was in pristine shape when it got there but never went on display. It was located hundreds of feet behind a fence so no one could get close to admire it, nowhere near any of the other aircraft, and without even a sign to let visitors know what type of plane it was, much less anything about its history. The over-the-wing hatches were left off and it was allowed to rust and deterioriate. I visited it over the years and I have the photos.
So now I can say I was not only there when 141292 was re-born as an NC-121K, I was also there a couple of weeks ago as it lay on the ground in pieces, dying. I spoke to the man who bought it for scrap. He paid $1,500 for it! He said he was going to cut the first 40 feet off and sell it to somebody who wanted to make a mobile home out of it. The rest would just be cut up and salvaged for the metal. He didn't want any of the fiberglass.
What a shame! What a waste of taxpayer money! What a lack of pride and accountability for Naval negligence!
Les Logan