Welcome to RomanArmy Group e-Mail List!

The webpage for said Roman List mailing list.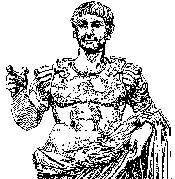 The RomanArmy Group List (nicknamed "RAG" by its members) is an active community of living historians, reenactors, research historians, historical writers and other persons interested in not only the Roman Army, but also Roman life in general. Each of the members of the list communicate with each other by subscribing to a mailing list that distributes their correspondence to all of the members.
Typical topics of correspondence are military battles, life in camp, material culture of the times, uniforms, equipment or weapons and just about anything else on subjects pertaining to the Roman Army or Roman life. Topics specifically related to reenacting this impression are also welcome, as many of the list members are living historians of the period.
Anyone who has a sincere interest in the history of the Roman Army, including Republican, Imperial and Late Roman, is most welcome to subscribe. If you are new to the list, please take a moment to read the new subscriber's page.