Infanterieregiment 226 is a non-political, WWII reenactment/ living history organization made up of historians from the Virginias and the Carolinas in Nord Amerika. We have been portraying the average German infantry soldier of WWII since 1992 and we strive to accurately represent these common soldiers, learn from their experiences, and teach others what we have learned. We also provide an adversary for the Allied reenactment units during battle events (although we routinely outmaneuver our Allied friends).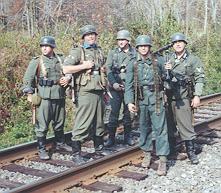 We chose IR226 because they were not one of Germany's elite units. They didn't wear cuff titles nor did they receive the priority replacements they so desparately needed and deserved. But they were completely destroyed in battle twice and always reconstituted. They fought and died in France; the Red October Barricade in Stalingrad; the Kuban Bridgehead; Jassy, Romania; and the Battle of the Bulge. They were patriotic men who fought bravely for their nation in time of war and lost. Their history deserves to be studied. Only through objective study can the lessons of these men be learned and the wounds of this conflict heal.
Our goal is to be known as the premier WWII German Army reenactment unit on the east coast of the United States. Our autheticity standards are the highest in the field and our `Kameradshaft` is the strongest of any unit. We are not the largest, but we believe we are the best. We are actively involved in living history programs with museums and are routinely invited to participate in "invite only" reenactments when the highest degree of authenticity is demanded.