Frontpage > Main
Advertising on reenactor.Net and Sturmkatze Companies
Ad Pricing
Why would you want to advertise with reenactor.Net?
Well, an ad on reenactor.Net can bring you in touch with the clientele you are trying to reach.  We "serve" around 300,000+ "page views" each month, mostly from serious living historians and reenactors.
You might have heard the term "hits" used as a indicator of a website's popularity, but this term is often overused on the Internet. A "hit" actually occurs every time an object on a web page is sent to your browser, so if there's a lot of art on a page, there will be a lot of hits for each page view -- we don't count this way as it is somewhat dishonest
All this translates into the fact that we get somewhere around 20,000 to 35,000 distinct visitors each month looking at these pages. Sometimes more, sometimes less -- it's the web. However you look at it, there's a lot of viewers here.
How will reenactor.Net influence my bottom line?
Good question. Here is a testimonial from Ed Walton, owner of Lost Battalions Military Reproductions:
"reenactor.Net is consistently Lost Battalions' top source of click-through web traffic. The shoppers who come to the Lost Battalions web site from reenactor.Net stay longer, view more pages, and spend more money than web surfers coming in from other sites. reenactor.Net is an essential advertising tool for Lost Battalions and should be the first web advertisement choice for all vendors of reenactment supplies."

Ed Walton, Lost Battalions Military Reproductions
What are the different ways I can advertise on reenactor.Net?
We offer visibility and prices to reflect various budgets and needs. With our ads, you can immediately start reaching thousands of targeted, interested buyers each month and bring them to your website. Our very reasonable prices will enable customers already interested in the types of items you sell, to find you and come directly to your firm. We have a number of different types of ads, from simple Banner Ads to Button Ads... See below for specifics...
Types of Ads
Front Page Banner Ad--These are limited, but since they ar eon the main page of reenactor.Net, they ge tmore traffic. We charge $300. per year for these. A direct link to your company is provided with the ad. There is no text along with these. The maximum size of the banner is 600 x 200 pixels and 20k max.
12 Months (1 full year paid in advance) -- $300.00
Sutler Page Banner Ad--The Sutler/Vendor pages of each Time/Area are where reenactor.Net visitors go to find links to quality vendors--this is the place to put your ad! Your banner ad is proudly displayed in the sutler area for that T/A, along with up to two paragraphs of text, in an area where buyers who are already looking to buy, can easily find your company and wares.  Here you can tout products, prices or anything about your firm to draw interest. Same style banner as in the Front Page Banner Ads.  A direct link to your company is provided with the ad.  The maximum size of the banner is 600 x 200 pixels and 20k max.

12 Months (1 full year paid in advance) -- $200.00
or consider it 3 months and when you order it, we throw in another 9 months for FREE! :-)
---
Button Ads
Button ads are an offering we have and they promise to put your ad-link right in front of the viewer's gaze! Not only that, they are an economical alternative to the banner ads and when used in conjunction with a banner ad campaign, they can prove VERY effective. As we are just starting this, we don't have them on all pages yet, but we will soon. Be the first one in your time area!

Prices for "above the fold" button placement (placement on the page is on a first come, first serve basis).

(1) button ad = $140.00 per year.
The longer ad button below, on the right, is a special "2x" ad button, we charge extra for them due to their added visibility... (contact us for pricing)

Button Ad Service

If you need us to make you a button ad, we can... at least we have made the ones to the right out of clip art and I am sure we can whip something up for your business. For the most part, we charge $79.95 for the service if you provide us the artwork. If we have to make it or find the artwork, it might be a bit more, please feel free to inquire about this. And yes, we can do some kinds of animated banners, as always check with us for pricing...
Terms of Service:
Payment for ads is due in the full amount for the time requested when the ad is ordered. We can take payment by credit card via Paypal! ;-)
Please be specific on the time, style and period desired for the ad.
Customer is responsible to provide reenactor.Net with all needed artwork for the ad desired. Banners will usually be no bigger than 600 x 200 pixels and 20k maximum in file size. The banner art may be animated or static as long as it fits the sizing rules,
Along with the ad artwork and copy, the customer must also supply contact information in order for us to be able to contact them on anything that should come up.
reenactor.Net will send the customer an email notice one month before the current ad expires--sometimes we forget and you get a longer term for free... what a deal :-Ž .  Any changes can be made at that time.
Should a customer wish to change their current ad, this can be done for a set up fee of $25.00.
reenactor.Net reserves the right to deem any ad as unsuitable and refund the ad price and artwork back to the customer.
Ads must not violate our Terms of Service nor those any of our partners. For example, we are a Google AdSense publisher and as such, any ad links that are on our site(s) will not violate Google's Terms of Service. You may read Google's TOS here.
---
reenactor.Net contact information:
You can contact me through email at:
Marsh Wise
Ads Manager reenactor.Net
siteboss@reenactor.net
"It is my pleasure to work with you to really enhance
your company's profits!"
*Note: To see when your ad runs out, simply hold your mouse over your
ad logo and the date will show as the "alt-text."

You've found reenactor.Net — the world-wide, on-line home of historical reenacting!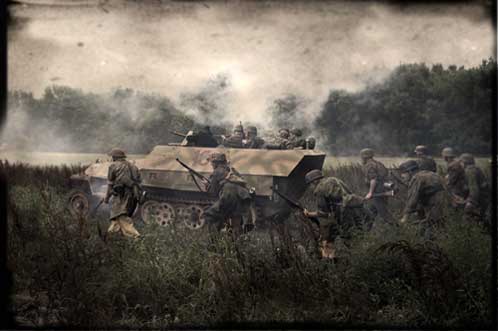 Historical reenacting is a great hobby!! And here on reenactor.Net, you will find information about historical reenacting all around the world. Now, you're probably thinking "You mean like the Civil War stuff?" Well, sort of... ANY time period you can think of is reenacted today and we cover them all! So look through the site and maybe you'll find something that interests you enough to get into it. The links are broken down into what we call "Time/Areas" or simply "T/A's." Each of the T/A's are run by an Assistant Webmaster who is active in that period and holds a great love for it.
Not only will you find links to individual unit websites, but also those of overall "parent" organizations. Eventually, each T/A will include a reading list and overall links to other sites which pertain to that period of time.
What is "Reenacting?"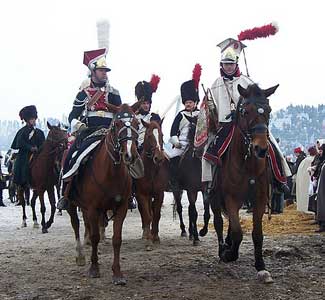 "Reenacting" or "living history" is a hobby where the participants try to portray people of the past. Some people just have a hard time conceiving of this, they ask DO they pay you?" NO! How do you know who wins or who dies?" Some battles are scripted out as to the end, some are called "tacticals" and may have judges or rules as to what happens. Some events are just "living history" (as they are so called), these usually being set up for the public. Many reenactments aren't even done for the public, but instead for us, the reenactors. WWI and WWII events are usually of this type.
"I still don't get it!" Probably the best explanation I have ever heard was this: Imagine your most favourite movie. Imagine being able to "step into" that movie — that's a lotlike reenacting. And no, we don't have a script, or anything like that. Our actions are usually just us trying to live in that time period.
If you like history, you'll probably like reenacting—one thing to remember though, you WILL feel what it was like. This isn't like sitting in an arm chair in your living room — in reenacting, you will feel the dirt, the wind and the rain, the sweat, the wool clothing :-0 (yep, wool—surprisingly comfortable!). You'll learn what period shoes felt like. How the gear was carried; what was comfortable and what wasn't. Often you'll get to try period recipes for foods you've never even thought of. The Romans for example, loved to combine tastes that to us, in the modern world would be (and are) considered weird — pancakes with pepper come to mind. However, when you try these foods, you'll find they aren't bad, just different. Often different in a good way (WWI turnip jam was NOT in a good way though ).
So look around, pick something that interests you and jump on in — the water's fine!
reenactor.Net Needs You!
In the past, r.Net has had donation drives for different things... although mainly for the server bill (it used to be hideous back in the old days before hosting came down). Nowadays, we have the server handled, but find that we once again need to pay a programmer to help keep r.Net on an even keel.
Once more into the breech...
Through the kind help of our friends, reenactor .Net has stayed up over the years and with your help, we will be able to continue the stuff we do ;-) To all who have helped out in the past, THANK YOU!!! If you'd like to donate to reenactor.Net, we appreciate your help!.
To help out, please go here and read more.
And, please, visit the reenactor.Net honor wall... this is a page that lists those who have donated money to help keep "the lights on" here on r.Net. If you would like to help out and donate, please use this button or the ones on the upper right.

reenactor.Net's Online Living History Forums
I've wanted to do Forums for awhile now, but it was either too much coding, or I would have to use someone else's system (i.e. ezboard or something — meaning we had no control over how it was run) or just whatever. I am happy to say I've found something that set up well and is expandable. There is very little there yet, but there will be soon. And, if you're signed up for one time period, you're a member in them all. This works well if you do more than one time period or are just interested in what's going on in reenacting. It's a nice place on the web — not some place for a flame war.
So anyway, the link for the Forums is right above — click it and sign up. And yeah, YOU yourself need to post too, for there to be stuff there to read — reenacting, it ain't just another arm-chair hobby!
Hope you like it... Marsh
P.S. look for more changes at r.Net coming up to make it easier and better for you, the reenactor.

Check out the NEW additions to the site page We try to post the additions along with the date so you can figure out what's new. (okay, so sometimes (often) we don't get around to updating this page as much as we need to... hope to work on that in the future...)
Events
To help you find upcoming events, we also have a calendar section which is constantly being updated by our visitors and the event organizers.
Meet Our Staff!
Click HERE to go to our Admin Page and meet the Staff.
Movie Work
If you're interested in using reenactors in a production or you're a reenactor thinking about doing movie/film work, read this
Do you Want to Start Your Own New Unit or
Living History Group?
Then check out this page we have added, written by Matt Amt of LEGIO XX! This article really details what you need to do and how to make the new unit work out right!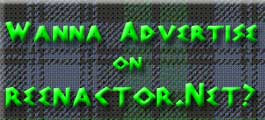 Yep! You too, could have your reenactor/historically-related businesses ad here, on reenactor.Net. We have a variety of different combination's to place your banner and text here on reenactor.Net, from a single ad on up to whole ad campaigns to reach your reenactor customers! Click on the banner to check out our pricing.

Books!

Visit Marsh's Reenactor Bookstore!(also, we have book areas in each time/area... We are working hard to consolidate this all). If you are looking for books, music CD's or videos about any particular time period, please visit reenactor.Net's on-line store. What does this mean? Do we have a store... Can you come in and yell at us — nope, it means we are an "Associate" of Amazon.com! Each of our Time/Areas has (or will have--only a one or two don't have a reading list) a Reading list with links to books at Amazon.com and Amazon's mobile apps (Android, iOS) Each of our Time/Areas has a Reading list with links to books at Amazon. This is one of the ways you can help keep reenactor.Net going — the pittance we receive from Amazon when you buy a book through us!
Anyway, soon we'll have this all redone again, Amazon has come up with a newer, better way to help us build our web bookstore. Sometimes it's hard to find books in a time period we don't do, so... if we don't have something that YOU believe we should, TELL US! :-) If you have any questions about our On-Line Store, please view its F.A.Q. page.
reenactor.Net's Featured books:
The first book here, was written by my wife's great aunt and is a good read.
The Journey was written by 83 year old, first time author, Jeanne Spencer (now sadly passed) and is an extraordinary chronicle of her 57 year marriage to the late Charles Spencer. They married shortly before America's entry into World War II, which Spencer fought as an 8th Air Force bombardier. Horribly wounded on a mission against Bremen, Germany on November 26, 1943 Spencer was awarded the Nations second highest award for Military valor the Distinguished Service Cross. After spending 2 years undergoing extensive plastic surgery both in England and at a U.S. Army hospital near Valley Forge, Pennsylvania, Lt. Spencer was discharged from military service in 1946.

The Journey tells all this, together with the couple's remarkable post war story, as they settled in Jeanne's native Kansas, raised 2 sons, and served God through Chuck's Vocation as a Baptist minister and Chaplain of the Kansas State Soldiers Home near Dodge City. After Chuck's death in 1998, Jeanne continued to live in Dodge City, where she played the organ at the First Baptist church every Sunday and taught an adult Sunday school class, and made clothes for the children of needy families.

A book by a good friend of ours,
Dr. Jenny Thompson
! All about reenactors... Jenny has been writing this book for many years and has finally finished it.
I got my copy and read it right through. Fun to try and figure out who is who (Jenny changed the names to protect the foolish) Also, I was amused to see myself quoted a few times ;-)
Store FAQ
reenactor.Net On-Line BookStore


Why, you ask, should you go to our on-line store versus simply going to Amazon.com's site directly? Well, by going through us, and if you buy a book, CD or video from Amazon.com, we get a small referral fee. Wait... I know what you're thinking "WHAT? Why should I help that fat bastard make money?" Think of this way: it costs money EVERY month to keep reenactor.Net up and running. I have to make enough of said money every month to do so, or... r.Net will end up dying -- or worse, having constant ads for mortgages, cars, repro watches and other crap NOT RELATED TO OUR HOBBY on every page , along with banner ads trying to pop-up encouraging you to join an online casino or some crap.
My goal was/is/has always been: to get the vendors that we have listed on the site to pay a small fee for listing and by doing so, to keep the site going. So, unlike these vendors, we only have information to sell -- and, it's not like we're going to take the money and jet off to Milan. To find out more about ads for vendors, please go to the Ads page. Lately, we have been trying to use Google Ads to help ? google ads seeming to work a bit better for us than trying to sell ads to businesses run by... reenactors :-0
Anyway, for those vendors who are listed on reenactor.Net --please, patronize these fine businesses that help keep this site free!
Wanna ad?
Yep! You too, could have your reenactor/historically-related businesses ad here, on reenactor.Net. We have a variety of different combinations to place your banner and text here on reenactor.Net, from a single ad on up to whole ad campaigns to reach your reenactor customers! Click on the banner to check out our pricing.
Hey everyone, sorry for problems. Just found out the link mod was not allowing people to add their unit links. Sorry! If you're a member of reenactor.Net, it should allow this. Stupid thing. Grrrr. AFAIK, it's okay now. IF you have any problems, please let me (or another admin) know and we'll get it fixed.
One other thing: We are back up now, but the site had been down for the last couple of weeks, as we were moving to a new host server. It took some time, but I am hoping this will fix our slowness problem. Thanks for bearing with us.

Best, Marsh
Navigation
[0] Frontpage
[#] Forum