Ancient Greek Reading List and Bookstore

Books on the Greeks
Most books on Greek warfare tend to depict the classical ages around the Peloponesian wars, but accurate depictions of Greeks in earlier Mycenean and other times are beginning to show up.
There are several good books with illustrations recreating Greek armor from the Trojan War and the Archaic period to Classical Greece and Alexander. Osprey books has several in this series.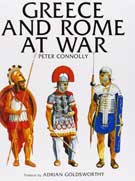 GREECE AND ROME AT WAR
Illustrator:
Peter Connolly
Frontline Books
One of the "Standards" in studying the Greeks and Romans. Really great illustrations and even photos of the battlefields in the present day. Worth every penny!
Publisher's description: In this sumptuous guide to twelve centuries of military development, the late Peter Connolly combines a detailed account of the arms and armies of Greece and Rome with his superb full-color artwork. Making use of fresh archeological evidence and new material on the manufacture and use of the weapons of the period, the author presents an attractive and impressive volume that is both scholarly and beautifully presented with illustrations that are, quite rightly, recognized as being the best and most accurate representation of how the soldiers from these formidable military empires appeared.Greece and Rome at War lucidly demonstrates the face of battle in the ancient world. Covering the wars between the Greeks and the Persians and the epic contest between the Romans and their most capable opponent, Hannibal, as well as organization, tactics, armor and weapons, and much more, this excellent work brings the armies of Greece, Macedon and Rome vividly to life. This new revised edition contains a Preface by Adrian Goldsworthy.